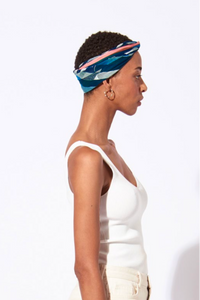 Ma Poésie is the creation of Parisienne Elsa Poux. A graduate of the National School of Decorative Arts in Paris, Elsa is inspired by ethnic cultures and crafting know-how, designing unique patterns inspired by travel, architecture, drawing and painting, with a strong colour influence from Russian abstract artist Sonia Delaunay. Delaunay, known for her avant-gardist research on rhythms and colours, declared in 1923 that her fabric drawings were as much "poetry" as "the expression of a state of mind".
Elsa's designs are imbued with a strong graphic identity and a range of very personal colours, and revealed through artisanal techniques of weaving, screen printing and embroidery on cotton, silk or wool.
The design of this bandana is built like an abstract architecture, playing with asymmetry and echoing lines. Shades of pink and navy blue are printed on a light hand-woven cotton.

Designed in France
Artisan made in India
100% handwoven cotton

70x70cm
---